Yoga Alliance News, Events, Media Partnership
We are very proud to be the only Yoga Alliance® organisation that has been involved with high profile world-wide Yoga events from the International Yoga Festival – Rishikesh, Odaka® Yoga Festival, Italy, Yoga for Peace-Italy, World Yoga Summit Beijing just to mention a few.
---
International Yoga Festival
Rishikesh 2018, 2019 and 2020 edition

Click on the images to enlarge
---
Yoghiadi
Italy - Yoga for Sports National Competition Organised by the C.S.E.N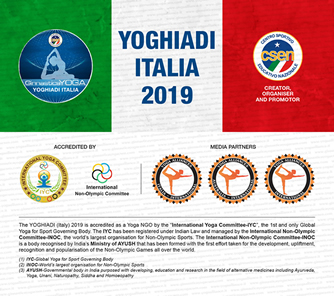 Click on the images to enlarge
---
Ignite Yoga Summit
Sydney - 2017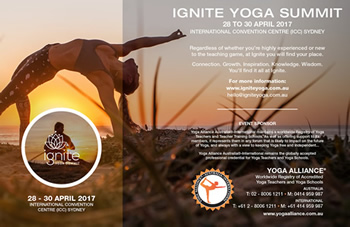 click on the image to enlarge
---
Yoga for Peace
Italy - 2018/2019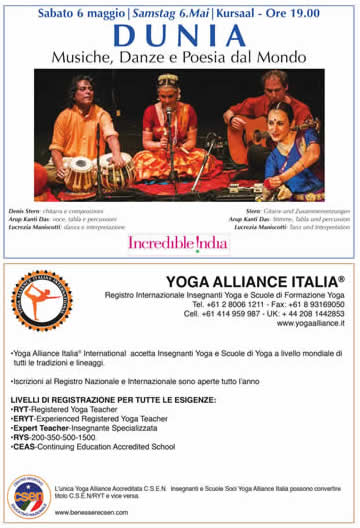 click on the image to enlarge
---
World Yoga Summit
Beijing 2016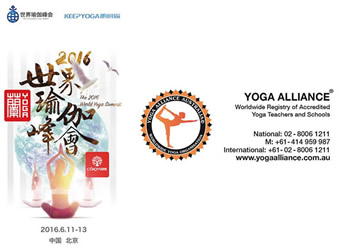 click on the image to enlarge
News
Yoga in ACT Health Clubs and Gyms
The ACT Government Office of Regulatory Services has confirmed that as of April 10th 2015 Yoga Alliance (Australia) has been appointed as an "Approved Registration Yoga Body" under the Fair Trading (Fitness Industry) Code of Practice for Yoga fitness services.
We can confirm that this recognition enables yoga teachers who hold a current registration with Yoga Alliance (Australia) to teach in gyms in the ACT. By submitting evidence of registration with Yoga Alliance Australia, RYTs (Registered Yoga Teachers) will automatically be recognised as meeting the requirements for qualifications needed to teach in gyms/health clubs and therefore will not be required to be registered with Fitness Australia.
This decision is in recognition of the consistently high standards for yoga teacher training, and continuing education for yoga professionals maintained by Yoga Alliance Australia.